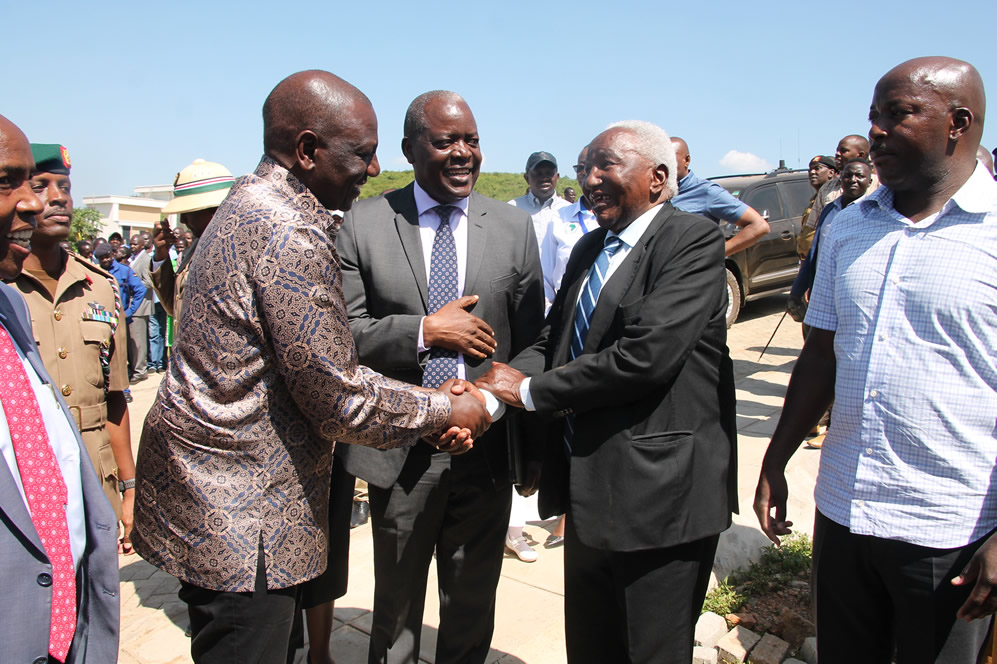 The Head of State, H.E. Hon. William Samoei Ruto, has officially launched Jaramogi Oginga Odinga University of Science and Technology's Blue Economy Research Hub situated in Miyandhe.
The President, accompanied the Deputy President, H.E. Hon. Rigathi Gachagua was received by a delegation of leaders, spearheaded by the host Governor, Hon. James Orengo, alongside the University Council and Vice Chancellor, Prof. Stephen Agong'.
In his remarks, His Excellency President Ruto urged Universities to become key drivers in research and innovation that develop solutions to the pressing challenges facing Africa and the world. He added that the Country's labor economy shows great demand for the specialized competencies required by a modern and globally competitive economy.
"The Blue Economy has emerged as a frontier of immense opportunity with the potential to contribute greatly to sustainable development," he said.
While issuing his addressing, the University Chairman of Council,  Prof. Shem Wandiga expressed gratitude to the President for gracing the ceremony, acknowledging the Government's input in supporting Universities in research endeavors geared towards sustainable development in the country. He added that the project will play a critical role in improving the livelihood of the people of Kenya and beyond through Blue Economy Research.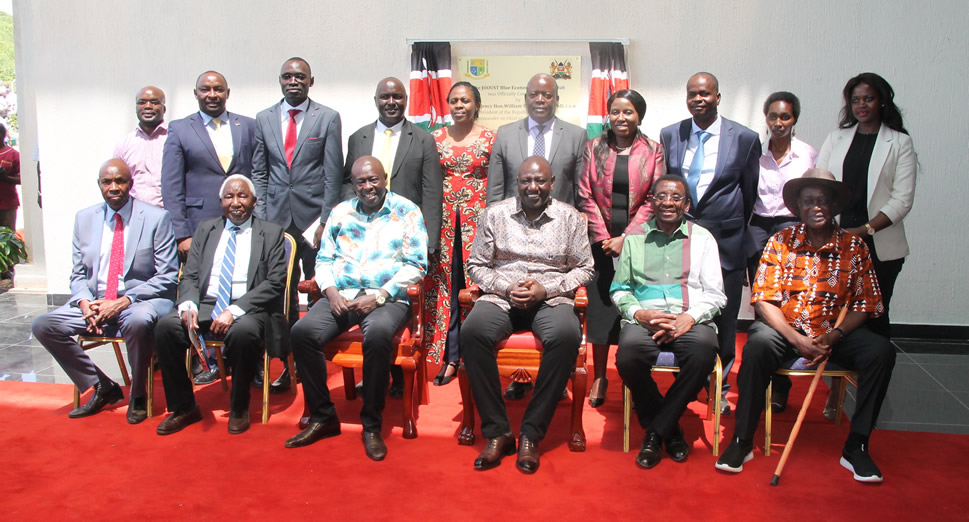 Other dignitaries present were, the Cabinet Secretary, Ministry of Education Hon. Ezekiel Machogu, the Governor Siaya County, Hon. James Orengo, Deputy Governor Hon. William Oduol, Senator Siaya County, Hon. Oburu Odinga, Members of Parliament Hon. Gideon Ochanda (Bondo), Hon. Sam Atandi (Alego), Hon. Elisha Odhiambo (Gem), and Siaya Women Representative Dr. Christine Ombaka among others.
The Research Hub is embedded on the Country's Blue economy objective of prioritizing the sustainable use of ocean resources for economic growth, livelihoods and jobs, and ocean ecosystem health. The grand vision of the project is to entrench the University in the forefront of providing the necessary highly skilled human resource and advanced research solutions for the budding Blue Economy.
This highly specialized laboratory will be used to undertake research projects and support both Post graduate and undergraduate students in Molecular Research Systems. Due to proximity to fresh water ecosystems the University has distinguished itself to steer the fisheries and aquatic technology among other fresh water sciences.
The president was treated to an exhibit of some of the research projects in the University including JOOUST's Sericulture project in conjunction with the Silk Orgin Limited, showcasing the production of silk and mulberry wine.
The University has gained a global audience stemming from Its research incentives, that have attracted both international and local funding opportunities including World Bank funded Africa Center of Excellence in Sustainable Use of Insects as Food and Feeds (INSEFOODS) project, which was established with the aim of addressing the challenges of sustainable food security using insects as human food and animal feed.  Consequently, JOOUST has received a number of grants from state corporations like the National Research Fund (NRF), The United States Agency for International Development is an independent agency (USAID), VLIR-OUS among others.