Welcome to Jaramogi Oginga Odinga University of Science and Technology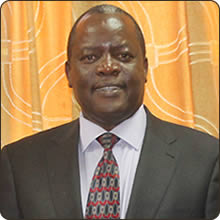 Jaramogi Oginga Odinga University of Science and Technology (JOOUST) is a centre of excellence in training, research and community outreach services offering practical and market oriented courses.
The University is a premier institution of higher learning offering relevant and quality market driven academic programmes for steering Socio-economic development. The University is strategically located at the quiet serene beaches of Lake Victoria and focuses on the development of Kenya's cultural heritage through the utilization of the vast natural resources for academic advancement and research purposes premised on improving the socio-economic status of communities.
Prof. Stephen G. Agong', PHD, FAAS - Vice Chancellor
jQuery Modules Joomla Tabs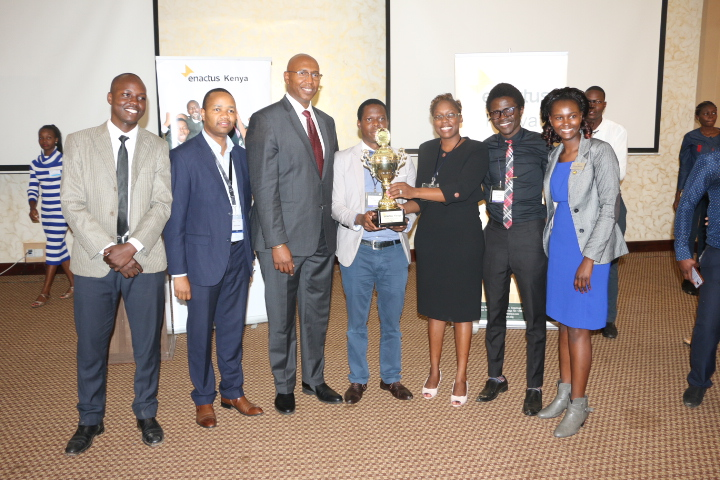 JaramogiOgingaOdinga University of Science and Technology (JOOUST) emerged top during this year's Enactus Kenya National Expositionand was announced the 2018 National Champion. This was held in Pride Inn Hotel Nairobi on the 8th of June 2018, hosting 33 Universities both in the private and public sectors. JOOUST Entrepreneurial Action for us All (Enactus) project Panda Kenya, stood out as the most creative and impactful community oriented project. The team will proceed to represent Kenya in San Jose in the USA for the Enactus World Cup from 9th-11th October, 2018.
The Panda Kenya project aimed at supporting current government efforts to increase forest cover in Kenya, improve on community livelihood and food security. Its implementation took two phases; First, to rehabilitate land and forests towards increased farm productivity; and secondly to provide the community with a renewable source of energy in offsetting charcoal burning by production and use of water hyacinth briquettes.
Read more ...
All students are informed as follows:
That Senate has approved the December 2017 exam results. Subsequently the results have been released in the website.
Please access your results from the JOOUST website by logging into your respective schools.
Students who have Resits shall be advised on the next course of action.
Those who whose names appear in the Deferred List should consult with their respective schools for advice.
Thank you.
Dr Walter Akuno, PhD
Registrar Academic Affairs
JARAMOGI OGINGA ODINGA UNIVERSITY OF SCIENCE AND TECHNOLOGY
AFRICA CENTRE OF EXCELLENCE IN SUSTAINABLE USE OF INSECTS AS FOOD AND FEEDS
The Africa Center of Excellence in Sustainable Use of Insects as Food and Feeds (INSEFOODS) is one of the 24 competitively selected Centers under the World Bank's Eastern and Southern Africa Higher Education Centers of Excellence Project II (ACE II).
The goal of INSEFOODS is to achieve long-term food and nutritional security by using insects as a cost-effective source of protein and other nutrients for food and feeds.
Students interested in conducting thesis research related to insects as food and feeds will qualify for a limited number of partial or full scholarships.
Scholarship Coverage
INSEFOODS seeks to offer a limited number of competitive Masters scholarships to eligible applicants.
Female and special groups are encouraged to apply.
Full scholarship includes tuition, research and stipend.
Partial scholarship will be for either thesis research or stipend only upon full registration and payment of tuition fees.
Self-sponsored students or students with alternative scholarships are encouraged to apply.
Read more ...
Jaramogi Oginga Odinga University of Science and Technology wishes to announce to the 2017 KCSE candidates who have been placed by KUCCPS in other institutions and wish to transfer that applications are invited to fill vacancies in the following programmes:
S/NO

PROGRAMME

PROGRAMME CODE

SCHOOL OF EDUCATION

1.

Bachelor of Education (Arts) with IT

1053135

2.

Bachelor of Education (Science) with IT

1053137

3.

Bachelor of Education (Special Needs Education) with IT

1053155

SCHOOL OF BUSINESS AND ECONOMICS

1.

Bachelor of Business Administration with IT

1053153

2.

Bachelor of Logistics and Supply Chain Management

1053248

3.

Bachelor of International Tourism Management

1053235
Read more ...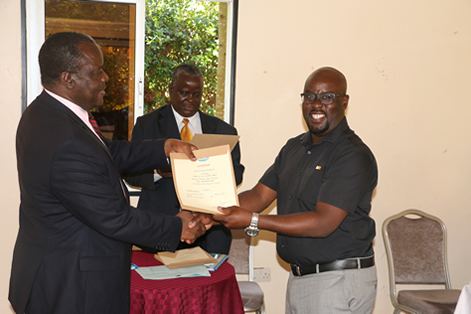 More than 30 members of staff drawn from different sections within the University have been taken through Quality Management System Internal Audit Transition course that has equipped them with skills on how to audit the requirements of ISO 9001:2015 Standard.
While giving his opening remarks for the three days training conducted at the Siaya County Club in Siaya County, the Vice Chancellor Prof. Stephen Agong' challenged the trainees to be the best example in the University by performing their duties to the standards expected of them by the QMS procedures. In support of these statement, the Deputy Vice-Chancellor in charge of Planning Administration and Finance who is also the Management Representative called on the staff to live up to the skills they have been given through the training.
Read more ...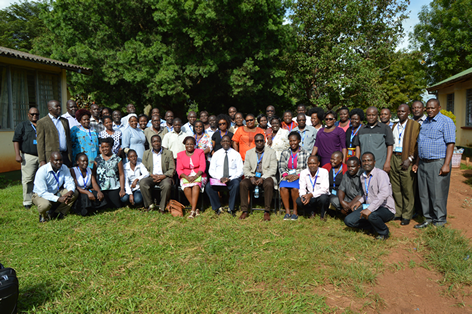 Jaramogi Oginga Odinga University of Science and Technology carried out two training sessions in Health Communication targeting Healthcare Service Providers within counties in the Western region of Kenya. The trainings were held between 23rd -24th April, 2018 in Vihiga County and 26th-27th April, 2018 in Busia County as part of 2017-2018 Financial Year Performance Contract target. The programme aimed at improving communication skills of Healthcare Service Providers for better service delivery in their respective facilities.
Previously, the University trained two hundred Healthcare Services Providers from Kisumu, Kisii, Homabay and Siaya Counties. Collectively, the programmehas equipped a total of three hundred Healthcare Service Providers with skills in health communication.
This is an initiative of JOOUST Outreach programme to transfer skills and knowledge to the community. The programme is offered in partnership with University of Nairobi and other Public Universities in Kenya to improve the working relationship between the Healthcare Service Providers with their clients.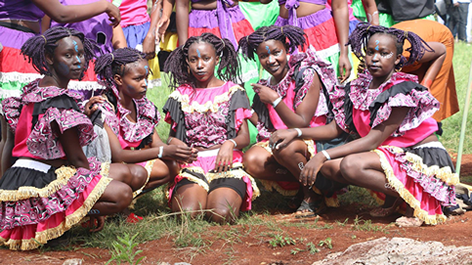 JOOUST Drama Club triumphed in the just ended Kenya National Drama festivals that took place in Moi Girls and Lenana School in Nairobi County. The unshakable and disciplined team garnered 5 trophies in the categories as listed below:
1. Best item on Good Governance and Management practices
2. Best item on Enhancing our National Values
3. Best Narrative on National Cohesion and Integration
4. Best Narrator 2ND Runners up.
5. Best Actress Runners up
While receiving trophies at the main campus Bondo, the Vice Chancellor Prof. Stephen Agong' congratulated the Drama team for their excellent performance and has pledged support for such teams to help them realise their full potential while exhibiting their talents.
Read more ...
JOOUST Medical Insurance Service Provider 2017 - Trident Panel Download


JOOUST selected for World Bank funding
POSTGRADUATE FORMS
| | |
| --- | --- |
| APPLICATION AND REFEREE FORMS | View |
| BI-ANNUAL REPORT FORM | View |
| INTER COURSE, SCHOOL TRANSFER FORM | View |
| MONTHLY CONSULTATION FORM DEC 2012 | View |
| NOTICE OF INTENTION TO DEFEND A MASTER | View |
| PROPOSAL DEFENCE NOTICE FORM | View |
| STUDENT COURSE REGISTRATION FORM MARCH 2013 | View |
Free Joomla Tabs Component
Free Accordion Module