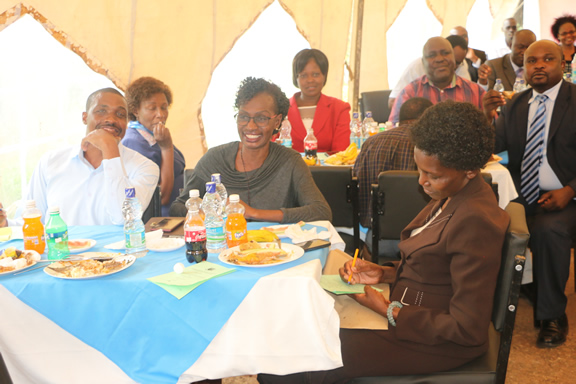 JOOUST Council welcomed the University's management organs led by the University Management Board, Senate, Committee of Deans of Schools and the various Heads of Departments to a luncheon meeting at the University's hospitality grounds.
The strategic luncheon meeting held just at the beginning of the financial year 2018/2019 was hailed as of great benefit to the University as the University heads sat to bring their heads together for the smooth running of the University.
While saluting the staff during the luncheon meeting, the Council Chairman Dr. Walter Ongeti congratulated the university staff for a job well done in the past financial year and encouraged the staff to upscale their performance in this financial year. The chairman promised the council's commitment on acting requests that would improve performance for a better University. Dr. Ongeti however challenged the staff to be ready for performance contracting that they must defend through their hard work.
On his part, the Vice Chancellor Prof. Stephen Agong' thanked the council for the good relations and support they have continually accorded the University since they came in office. Echoing the chairman of council's statement, the VC has told the staff that this particular financial year which has marked the beginning of his second tenure presents a tough time and every employee of the university must rise up to the task. "This is a very difficult period for all of us, starting with me, we must be prepared to work, I will not tolerate non performers." Said Prof. Agong'