The University in collaboration with the Regional Centre for Mapping of Resources for Development (RCMRD) has signed a memorandum of understanding on cooperation and consultation. The aim of the MOU is to foster the application of geospatial information and technology.
This collaboration culminated into training for both students and staff to create awareness on GIS data availability that can be freely accessed for diverse application in teaching, research and outreach. The workshop was aimed at increasing the number of potential GIS data users at JOOUST, adopting geospatial technologies through promotion by RCMRD to JOOUST community for improved uptake and improving GIS data access by providing platform to RCMRD to explain and demonstrate access protocol and user access rights for their GIS data.
While giving his opening remarks the Deputy Vice Chancellor, Academic Affairs Prof. Joseph Bosire said that JOOUST had been identified by RCMRD to host Global Navigation Satellite System (GNSS) Continuously Operating System (CORS). The surveying and mapping, CORS would have many positioning and research applications in JOOUST community including engineering and construction, surveying and mapping, precision farming, structure monitoring, earth crust monitoring and motions, atmosphere modeling, GNSS meteorology among other earth science studies.
The workshop aimed at among other things, exploring opportunities on how RCMRD GIS data could be used to support JOOUST edible insects research, linking RCMRD portal with JOOUST library, holding workshops and conferences aimed at research exchange programme for researchers and for both parties to develop joint proposals for funding consideration.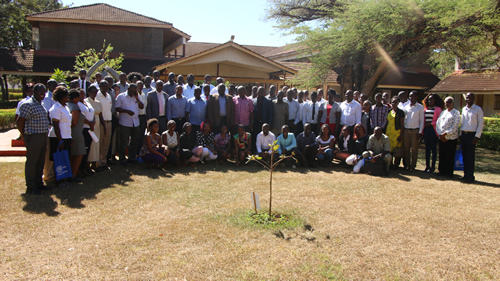 Among those in attendance was the Deputy Vice Chancellor, Planning Administration and Finance, Prof. Washington Olima representing the Deputy Vice Chancellor, Research, Innovation and Outreach Prof. Benson Estambale who opened the workshop saying that it was an important workshop that was part of the University's' commitment towards Information System Data Sharing Sensitization.Representing RCMRD was the Acting Director General Dr. Byron Anangwe who emphasized the importance of the partnership between JOOUST and RCRMD in ensuring that research outcomes benefits local communities.