By Isaiah Gwengi | Sunday, Dec 18th 2016 at 10:43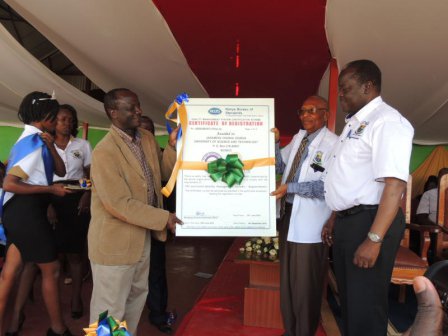 Jaramogi Oginga Odinga University of Science and Technology has unveiled a five-year development plan seeking to elevate the institution to a centre of excellence.
Speaking during the 2016-21 Strategic Plan, Vice Chancellor Prof Stephen Agong' said that with the implementation of the ambitious plan and ISO re-certification, the institution is ready to conform to requirements of the Vision 2030.
"The ISO re-certification is expected to help us realise our mission and vision set to give us an opportunity to compete with other institutions, not only in Kenya but globally," said Agong'.
"The implementation of the Strategic Plan is a full responsibility of the entire university community, including the students who have to play pivotal role," he said.
He pledged that the council will ensure they fully facilitate the management in ensuring proper coordination, networking and collaboration to provide enabling environment for implementation.
While issuing the ISO 9001:2008 re-certification, Kenya Bureau of Standards regional representative Mr Jared Ombewa said the certification allows the institution to demonstrate commitment to best practice, efficiency and sustainability.
"This is an opportunity for the university to show its clients, partners and shareholders that it meets the highest quality management system standards, and proving that you care about delivering service in a professional way," said Ombewa.